Warning about defective safety equipment

This is the first article on this site in English. But the subject is to seriously to be written in Danish only. I have through the years seen and used different safety equipment while rowing in my kayaks. And most equipment has been adequate – or quite good – for its purpose: To make rowing in a sea kayak as safe as possible or to give you that little extra if something should go wrong.
But there is equipment out there which does not live up to what must be considered minimum requirement for safety equipment. And this article's purpose is to warn you about equipment which fails to meet just that.
Warning list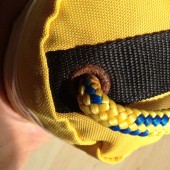 Lomo throw line (15 meter)
The problem with Lomo's throw line is the ringlets in the bottom of the bag. They are not made of stainless steel and will rust after a short while. That could endanger a towing mission if the rope was cut by sharp, rusty ringlets.
I have been in contact with Lomo but they do not accept that the rust is there because of a bad metal quality. Here is what Lomo wrote in one of their latest e-mail to me:
Unfortunately this bag is out of warranty and so we are unable to replace it. 
The ringlets will not affect the performance of the bag.
To me the answer from Lomo is not what I would call "responsible behavior" from a seriously company. I can live with the fact that the warranty of my bag is out with 2-3 months and  that Lomo will not replace it. It is only 17 pounds down the drain. I will survive that. But the issue is not warranty. It is safety. And the problem with rust is inevitably to happen as the ringlets are made of bad quality metal. Lomo should warn about their defective equipment on their homepage and offer a replacement to all who bought the throw line. With stainless steel ringlets.
——————–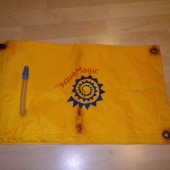 Aquamagic Paddle float (Danish link)
AquaMagic.dk was a small Danish company making stuff for kayaks including a paddle float. The company ceased to exists but the paddle float is still available in some shops and on the Internet. As with Lomo's trow line the problem is the ringlets in the four corners of the paddle float. They rust after contact with salty water. And in a situation where you would need a paddle float for self rescue that could be dangerous if the sharp rusty ringlets broke loose and deflated the float.
I tried to contact the owner of the closed company because he still produce equipment for kayaks but under a different name (he does not produce the actual paddle float anymore). But he declined to comment on the rust problem. And would not hear of any product responsibility. In fact he threatened me with a law suit if I wrote about the paddle float.
——————–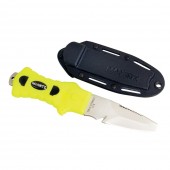 Diving knife from McNett (Danish link)
A diving knife from McNett that is supposed to be corrosion free – but is not. The blade on the knife will after a short exposure to salty water become corroded. This is of cause not acceptable to a knife that is supposed to be strong enough to be used as a diving knife.
I tried to contact the company but never got a response back.